Pamper and Self-Care Evening
Self-care had to be one of the biggest buzzwords of 2020/2021.
With us all being quarantined at home without much to do, many people, including myself, found the need to add some self-care to our routines. Mine this time last year included copious amounts of baths, hot chocolates and dedicated skincare/beauty time. So, self-care, although overused as a phrase, isn't a bad thing. It's simply the act of making sure that you do something for yourself, to take care of yourself the way you would generally take care of others.
When we don't take the time to do these things, we are more likely to burn out from work, experience higher levels of anxiety and depression, and cause fractures in our relationships.
One of the top self-care techniques used is relaxation. This can mean many things to different people – some people love to hang out with friends and family, others find relaxation in the peace and quiet of reading a book or going on a long walk with the dog.
Did you know that massage and facials are quite powerful relaxation techniques?
As I mentioned above, one of my favourite things to do when I'm feeling low is a full-on pampering session. Skincare is one of my passions – it's one of those topics that I could talk about all day!
If you feel a bit under the weather or are coming to the end of your tether, why not follow along with our pamper & self-care evening!
Pamper & Self-Care Evening
Bath/Shower – One of my favourite parts of the evening is running the bath. Bath salts are a brilliant relaxation tool as they often include calming/refreshing essential oils like eucalyptus or lavender. Don't forget to pop your autumnal candles on as well. If you don't have a bath, then a shower is just as relaxing! Oh, and be gentle when washing your face – we'll be doing quite a few treatments this evening, so we don't want to irritate the skin beforehand.
Comfy Jammies – After the bath, dry off and jump into your most comfortable pair of pyjamas. Also, grab a headband or hairbands/grips at the same time. 
Hot Chocolate – Boil some milk/water for a hot chocolate. This year I've got one of those hot chocolate machines on my list to make this stage even better!
Hair up – Head back to your vanity or bathroom sink/mirror and tie up your hair so that you've got access to your face and neck. 
Cleanser – Here is the first major skincare part of the pamper session. Skin EssentiA® cleansing lotion or Skin EssentiA® cleansing gel are two of our top products for cleansing. The lotion and gel are both gentle on the skin and help lift any pollutants or dirt from the face; these products both have limited foaming capacity to protect your skin better, so don't expect a ton of bubbles. Dampen your skin with some water and then take some gel or cleansing lotion and rub this into your face. Use circular motions and remember to be gentle, especially around your eyes and nose. One massaged into the skin, wash off as you might with a soap. Pat your face dry.
Toner – Next up is the toner. You want to apply this one to dried skin. Grab some cotton pads or something soft that can be swiped across the face without any exfoliative action. If you're looking for a top-notch toner choice, try out the Botanical Infused Moisturising Toner from Environ. The plant extracts in this toner help to keep your skin looking blemish-free and hydrated. Bring the toner down your neck as well!
Moisturiser – Moisturiser is a fantastic tool for helping to lock moisture into the skin. With this step, use something like Skin EssentiA® AVST Moisturiser (AVST Gel – 5), you'll want to massage this into your face/neck – if you are looking for step by step tips for facial massage with moisturiser, pop over here. You'll notice that the cream starts to work its way into your skin and leaves your face feeling soft with a sunny glow.
Those are all the major steps of our paper evening; after the moisturiser massage, I usually head off and read something from my book list, watch a bit of TV or play something on the switch. Add whatever you fancy to finish off the evening!
Extra Steps
In this post, we decided to talk about products from one of our favourite skincare companies – Environ. Of course, there are tons of other options out there, and if you want recommendations for products that might be cheaper or that you can get on the high street, then you can always pop into our Maidenhead salon for some advice or give us a ring.
This year, Environ is selling a Christmas gift set that includes all of the products discussed above in a beautiful festive box – you can buy this through the salon using the button below.
The Environ moisturiser products come in five different types. To get the correct box for your skin type, you'll receive a call once you check out from us to ensure you are getting the right product.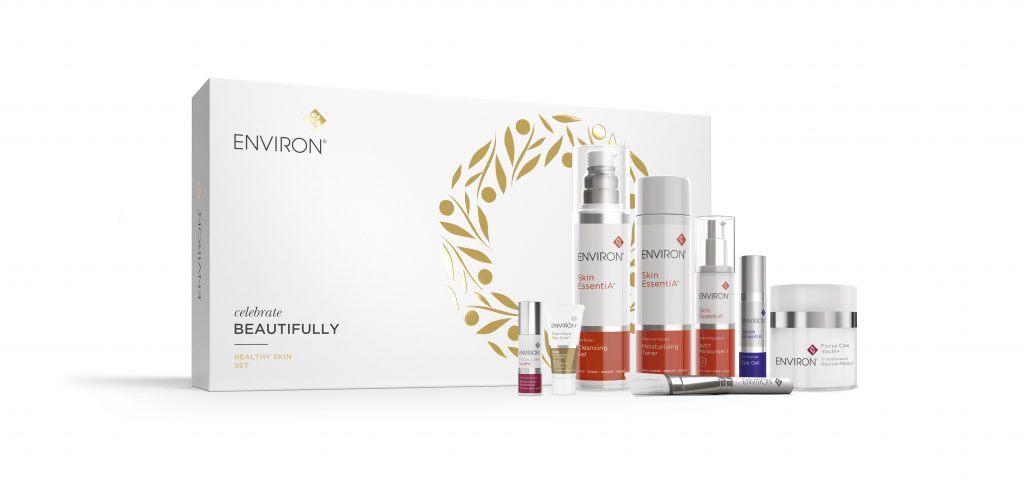 The box also includes some extra bits and bobs, which you might also want to include in your pamper session;
Masque – A masque is a brilliant addition to any pamper evening. The gift box includes this full-size Focus Care Youth+® Revival Masque and brush. You'll want to add this into the routine after the toner but before the moisturiser. This is a product that you brush onto your skin and leave for 10 – 20 mins or even overnight if you prefer. Masques are brilliant for keeping your skin hydrated and reducing uneven skin or fine lines. After you have left the masque to set (and grabbed a drink refill), wash it off with lukewarm water and then go into the moisturising step. We didn't add this step into the main list only because it takes a little longer than the rest of the steps but if you've got the time, then add it in for sure.
Eye cream – As it says on the tin, this one is the eye cream. Before we moisturise, we'll take a few dabs of this and gently rub this around your eyes. The Youth EssentiA® Eye Gel is created with the delicate skin around your eyes in mind. Be careful as you rub this in – the skin around your eyes is thinner and more pliable than the rest of the skin on your face, so it's easier to cause damage. Eye cream adds an extra layer of protection for this area – add this before you lock in with the moisturiser.
Moisturiser – This moisturiser is a smaller discovery cream added after your moisturiser from the main pamper steps. The Focus Care Youth+® Avance Moisturiser adds vitamin E into the mix. 
SPF – The SPF is another discovery sized bottle: Even More Sun Care+ RAD Antioxidant. It's a moisturising cream with sun protection at SPF15, protecting against UVA and UVB rays.
This is just one of the ways that you can implement a little more self-care into your routine. It isn't easy to put in, and there is always something else that gets in the way but remember that it's important to enjoy some time for yourself.
If you've got any questions about any of the skincare products or the routine in this blog post, please drop us a line on 01628 298040 or pop in and visit us at our Maidenhead salon. We look forward to hearing from you!